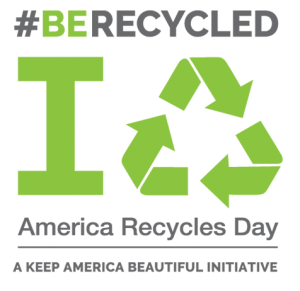 Once again, Alaskans are gearing up to celebrate Alaska Recycles Day as part of AMERICA RECYCLES DAY – November 15, the nationally-recognized day dedicated to promoting and celebrating recycling in the United States.
Your recycling actions matter and ALPAR wants to say thank you! To celebrate Alaska Recycles Day, ALPAR will hold a drawing on November 15 and every Alaskan who pledges to reduce, reuse and recycle more in the next month will have a chance to win $1,100. That number looks familiar to Alaskans because it's the amount of this year's Permanent Fund Dividend. What a great idea! Pledge to recycle more stuff and you may just double your dividend! Click HERE to go to the Alaska Recycles Day Pledge!
America Recycles Day is celebrated each year, on and in the weeks leading into Nov. 15. Thousands of communities across the country participate in activities to raise awareness and encourage others to take action to increase and improve recycling in America.
The day elevates our yearlong efforts to improve participation in recycling by helping people better understand what to recycle – whether at home, at school, at work, or on-the-go. Recycling conserves natural resources, saves energy and reduces the need for landfill space.
There are many actions each of us can take to reduce our environmental impact and support a clean community. One of the easiest actions to take every day is to recycle. According to the Environmental Protection Agency, each of us generates over 4 pounds of trash daily. Of that amount, 1.5 pounds is recycled or composted. There are more items that can be recycled; but just as important, it is about recycling the right things. To make recycling more economically efficient and to provide cleaner material to manufacturers to make new products – putting the right items in the recycling bin makes a big difference.
Thank you Alaskans for keeping Alaska beautiful and recycling!
Make your national pledge, too:
Please join your fellow Americans and take the America Recycles Day pledge HERE!