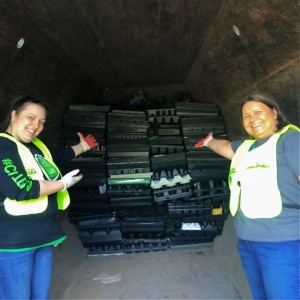 Anchorage Gardeners beat their record recycling 3.3 tons of nursery pots this summer. Thank you Alaska Botantical Garden for hosting the event on August 20 with help from their fabulous volunteers. A big shout out to Faltz Nursery for collecting pots from the public all summer! Contributing sponsors include ALPAR, Alaska Botanical Garden, Alaska Waste, Westrock, KLEF, KSKA and the radio stations of ALPHA Media Group.
_________________________________________________________
Calling all Gardeners! It's time to start gathering your plastic pots for the upcoming Garden and Nursery Pot Recycling Drop off event Saturday, August 20, 2016 at the Alaska Botanical Garden. Help us beat our 2015 record of almost 3 tons! It's a great time to visit the Garden after you recycle (discount admission for recyclers!)
All plastic garden containers will be accepted. Pots will be shipped to markets in Seattle by WestRock's Anchorage Recycling Center and turned into plastic lumber, benches and other plastic products. Recyclers are also welcome to take pots home for re-use. Contact ALPAR for more information at 644-7968.
Drop off also available at Faltz Nursery during regular business hours through Aug. 20. These pots collected at Faltz will be added to the total tonnage.
LOCATION: South Anchorage, Huffman Business Park, 1401 Labar St.
Do's and Don'ts:
1. SORT in 2 groups: 1. #2 HDPE and 2. #5,#6,& Unmarked
2. Shake out loose soil or rinse.
3. Remove metal hangers.
4. STACK like-sized pots to save space.
5. Plastic Garden Pots only – Pots can be taken away for reuse as well!
6. Greenhouses, Retailers and Landscapers must drop off at the recycling center August 22-24, NOT at this event. Call 562-2267 for instructions.
ALPAR, the Alaska Botanical Garden, WestRock Recycling (Anchorage Recycling Center) and Alaska Waste have teamed up to sponsor this recycling one-stop event. Media sponsors include the Anchorage Media Group Radio Stations, KLEF, and Alaska Dispatch News.
ALPAR Plastic Pot Recycle 11×17 PRINT