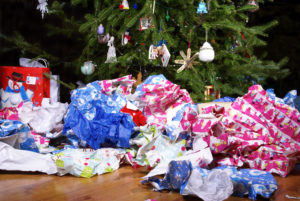 Lights, Trees, Action! Did you know that 80 percent of the waste you generate from Christmas packages, pretty paper and ribbons and all those gifts set great scenes for the holidays, but not so much at the curb, in the landfill and at the recycling center. Each year, 25 million extra tons of waste pour in between Thanksgiving and New Year's Day. Waste generation per U.S. household increases 25 percent during the holidays, but the EPA estimates that roughly 80 percent of holiday waste could be recycled or repurposed.




Let's get in the holiday spirit and give our waste the gift of a new life. ALPAR's Christmas Tree Recycling will begin again on December 28 through January 15 at all CARRS stores in Anchorage, Eagle River and Palmer. Live trees only. And, no wreaths, please. Trees are made into chips and used on trails and gardens. Thank you to ALPAR businesses, the Muni of Anchorage Solid Waste Services and our TV and Radio stations for supporting this program! Christmas Tree Recycling Poster


Recycle Christmas string lights at the Anchorage Recycling Center off Dowling Road and at Total Reclaim on Industry Way. You can also recycle your old electronics at Total Reclaim, too.
Here's 5 holiday tips for recycling it right, reusing it and throwing the rest away:
1. When giving holiday gifts, commit to reusing plastic laminated bags and ribbon and recycling those made of paper.
2. Shipping gifts? Make shredded paper out of old newspapers and be sure to reuse last year's bubble wrap and Styrofoam peanuts.
3. Recycle the wrapping paper – even the shiny stuff – but save and reuse the ribbons and bows. Wrap that contains plastic must go in the trash. Stretchy plastic bags go to the recycling center or your local store recycling bin but NEVER in your curbside bin because it causes problems in the sorting equipment. Remember, when in doubt, throw it out! Contact ALPAR for more information.
4 Getting a new device this holiday season? Make sure your old phone or tablet does not get tossed in with the recycling. Check with Total Reclaim in Anchorage for electronics recycling options.
5.Enjoy that bottle of wine, just remember that glass can be recycled at the Anchorage Recycling Center, Anchorage Landfill or Central Transfer Station, NOT in the curbside bin where it is a contaminant. Glass is recycled here in Anchorage, the curbside materials go out of state to be recycled.