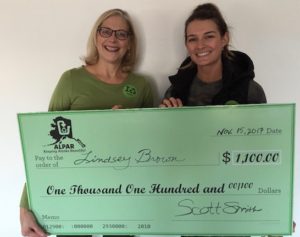 OUR LUCKY WINNER IS LINDSEY BROWN OF ANCHORAGE! Congratulations, Lindsey!
Born and raised in Anchorage and thanks to her mom's encouragement, Lindsey has been an avid recycler since she was a child, putting her recyclables in the right bin as part of her daily routine. As part of her pledge to recycle more and encourage others, she is pledging to ask her co-workers at McKenna Brothers Paving to recycle more, too!
Thank you, Lindsey and thanks to the almost 500 pledgers who are making recycling part of their daily routine to turn waste into resources!
WE APPRECIATE ALL YOU DO TO KEEP ALASKA BEAUTIFUL AND RECYCLING!