The 2018 Youth Litter Patrol Grants are now open for application. ALPAR's Youth Litter Patrols provide summer litter cleanup after annual spring cleanups are over. Grants are awarded based on population of the community and can be coupled with other community funding as well. ALPAR's goal is to keep our communities clean and litter free all summer long. Summer employment for teens is another great community benefit. For many of the patrollers, this is their first job!
ALPAR's Youth Litter Patrol program has been in operation since 1983 and is going strong today. Over 1500 youth participated last year in 90 communities. We would like to give a big shout out to our 2016 Outstanding Youth Litter Patrol: The Nome Ski and Biathlon Team. This patrol did an amazing job cleaning the community and surrounding beaches and we hope to see them out there again this year.
Applications were mailed the week of Jan 29th. The application and other documents can be downloaded on the right hand side of this page. ALPAR awards one grant per community. Funding available this year is $110,000. Questions, please call or email ALPAR at 907-644-7968, alpar@gci.net
Many thanks goes to ConocoPhillips who sponsor the Safety Vests for the program. We also thank all the participants from communities, village councils, sports teams and Boys and Girls Clubs, we salute your youth, patrol supervisors, administrators and all of their supporters.
ALPAR / BP Free Litter Bags for Alaska Communities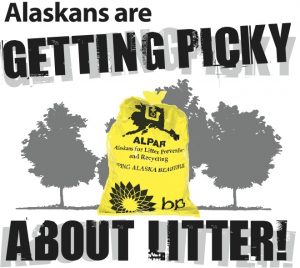 ALPAR has teamed up again with BP to bring the great Yellow Litter Bag Program to Alaska's communities. Communities can apply to receive multiple cases of free yellow bags (based on population) for road, beach, community, waterway, and park clean ups. And, don't forget all the Adopt-a-Highway and other Adopt-A programs out there! ALPAR prefers to have one organization per community order the bags and distribute to all the clean up efforts in their community. But, of course, we make exceptions. Bags may also be picked up in Anchorage. There is a $10 per box charge for postage to outlying communities or bags can be shipped however makes sense. There are 200 bags in a box.
ALPAR also has large green Marine Debris bags for beach cleanups. These bags are 2X the size of the yellow bag and are for large items found on beaches. For those communities who participate in the ALPAR Flying Cans and Flying #1 PET Bottle recycling program, ALPAR provides green bags for shipping aluminum cans and yellow bags for shipping #1 Plastic Bottles for recycling in Anchorage. This program is for communities off the road system in western, northern and interior Alaska. Please contact ALPAR if you need an application to order bags or would like to apply to participate in the Flying Cans & Bottles Program. Call or email ALPAR at 907-644-7968, alpar@gci.net
This is the 14th year that BP has been the sole sponsor of the ALPAR Litter Bag Program. ALPAR thanks BP for their on-going support for this popular program that helps communities stay "Alaska" beautiful. And, that's a whole lotta beautiful!
It's a good time to give a big shout out to Northern Air Cargo! They are the primary airline that flies aluminum cans and plastic bottles from all the hub communities for ALPAR as a donation! And ditto thanks to Ryan Air, Ravn, Grant Aviation, Penair, ACE Air Cargo, Warbelows, and Bering Air for donating the backhaul from our village communities. A huge commitment since 1989.