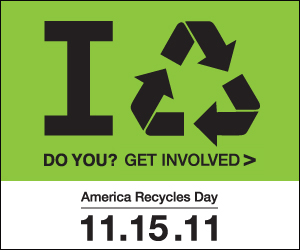 America Recycles Day and Anchorage Recycles Day is coming up soon and we want to show the other states just how enthusiastic Alaskans are about recycling. So, here's your challenge: Organize and register a recycling event or promotion at the America Recycles Day website and ALPAR will automatically enter you/your office/business/organization/etc. in a drawing to win $500 to help you celebrate. To win the $500 you must register your event by November 1, 2011. You will have fun, too, with lots of help and ideas from the ARD Organizer Guide.
Here's a few ideas:
Host an office "recycling lunch" to celebrate recycling in the workplace.
Do a recycling challenge in your school, business, or community to increase the volume of recycled materials collected whether it be one item or all the items collected in your community.
Host a recycled art contest or display in your school / organization
How about a Recycling Flashmob!
Add a new material to your recycling program and kick it off on ARD.
Challenge your neighborhood to sign up for curbside recycling.
Host a community outreach table at a local business to spread the word about recycling.
Anchorage kicks off a juried recycled art show called revAmp, Recycle, resTore (ART) beginning on November 4th
Do outreach on your website, Facebook page or media advertising that highlights your commitment to recycling.