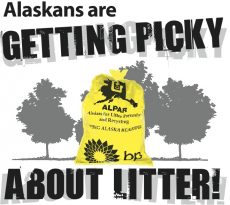 Spring planning is underway! Grant applications for the
2017 ALPAR Youth Litter Patrol Program
and order forms for the
ALPAR LITTER BAG Program
have been mailed to communities across Alaska in preparation for spring and summer clean up programs.
The Youth Litter Patrol application deadline is April 3. ALPAR provides seed money grants to one organization per community who will operate the patrol giving priority to those organizations who have run successful patrols in the past. ALPAR's Youth Litter Patrols start after community's volunteer Spring Community Cleanup and help keep public spaces litter-free throughout the summer. Youth gain work experience and set an example to others to not litter – something we all appreciate!
Thank you to ConocoPhillips for providing safety vests and to BP Alaska for sponsoring the free ALPAR Litter Bag Program. We also recognize Matson for their generous donation to ship the bags to Alaska. Youth Litter Patrols are sponsored by communities, tribal councils and businesses throughout Alaska. Thanks to Municipality of Anchorage Solid Waste Services for sponsoring the Anchorage Patrols!
Forms for Download:
ALPAR Youth Litter Patrol Guidelines 17
2017 YLP Grant Application
Please contact ALPAR at 907-644-7968 for information on obtaining bags for your community.
If you have not applied for this grant before, please contact ALPAR for more information.